The World's Best Multiphase Oil & Gas Pumps
IJACK manufactures artificial lift and optimization equipment for oil and gas production and facility areas.
We proudly help energy companies pump their oil, gas, water, and other fluids in the most reliable, automated, green, and cost-effective manner.
Replace entire separation and compression facilities with one or two patented XFER™ pumps to save millions and green your operations. Imagine the possibilities.
Any Fluid, Any Direction
Oil, gas, water, or any mixture of fluid. Sandy, waxy, hot or cold, customers rely on IJACK to pump their fluids up, sideways, and down, 24-7 with minimal maintenance and intervention.
Extremely Durable
We pride ourselves on building extremely high-quality, durable pumps that operate slowly but powerfully year after year.
Fully Automated
IJACK pumps are fully automated so you can set it and forget it. All our pumps measure, report, and automatically adjust to reach your operators' setpoints. If something goes wrong, IJACK's RCOM™ system will let you know with SMS, email, or phone call alerts (free of charge) so you can take action either remotely or on-site.
---
XFER™ Multiphase Pump
100% liquid to 100% gas or anything in-between
XFER is a real three-phase fluid transfer pump that lets you pump oil, gas, or anything else your well throws at you.
Eliminate entire separation facilities and save millions
No need to separate the gas from the oil and pump them separately. IJACK customers have saved millions on expensive facilities, simultaneously reducing operating costs while greening their operations.
---
EGAS™ Compressor
Gas Holding Back Your Oil Production?
EGAS relieves gas back-pressure so you can produce more fluid.
Set it and Forget it
EGAS is fully automated so you can rest easy. Set your desired suction pressure and EGAS will take it there on cruise control.
Liquids Creeping In?
No worries. EGAS will pump the liquids into the flowline.
---
DGAS™ Beam-Mounted Compressor
Relieve Pressure. Improve Performance.
Compress up to 10 decs/d (350 mcf/d)
Same purpose as EGAS, but it bolts onto your existing conventional pumpjack.
Simple Installation
Secure it to your pumpjack in less than two hours with no welding.
---
UNO™ Hydraulic Pumpjack
Automatic Production Optimization
Maintain constant fillage
Reduce downhole wear
Automatic pump-off control
Adapt to changing downhole conditions
Machine learning surface card alerts
Fast and Easy Installation
Up and running in less than two hours
---
CHANGING THE LANDSCAPE
As specialists focused on the development of oil & gas technologies, IJACK is about bringing resources and innovation to the surface. Our goal is simple: to provide producers with advanced products and solutions designed to improve efficiency and increase production – while offering unprecedented control.
We are an engineering company that partners with our customers to create innovative solutions for the most challenging production and midsteam fluid transfer problems.
IJACK's field-proven products are backed by the responsive service and support, throughout the US and Canada, that you depend on to be successful. All so you can gain an edge in a increasingly competitive resource sector.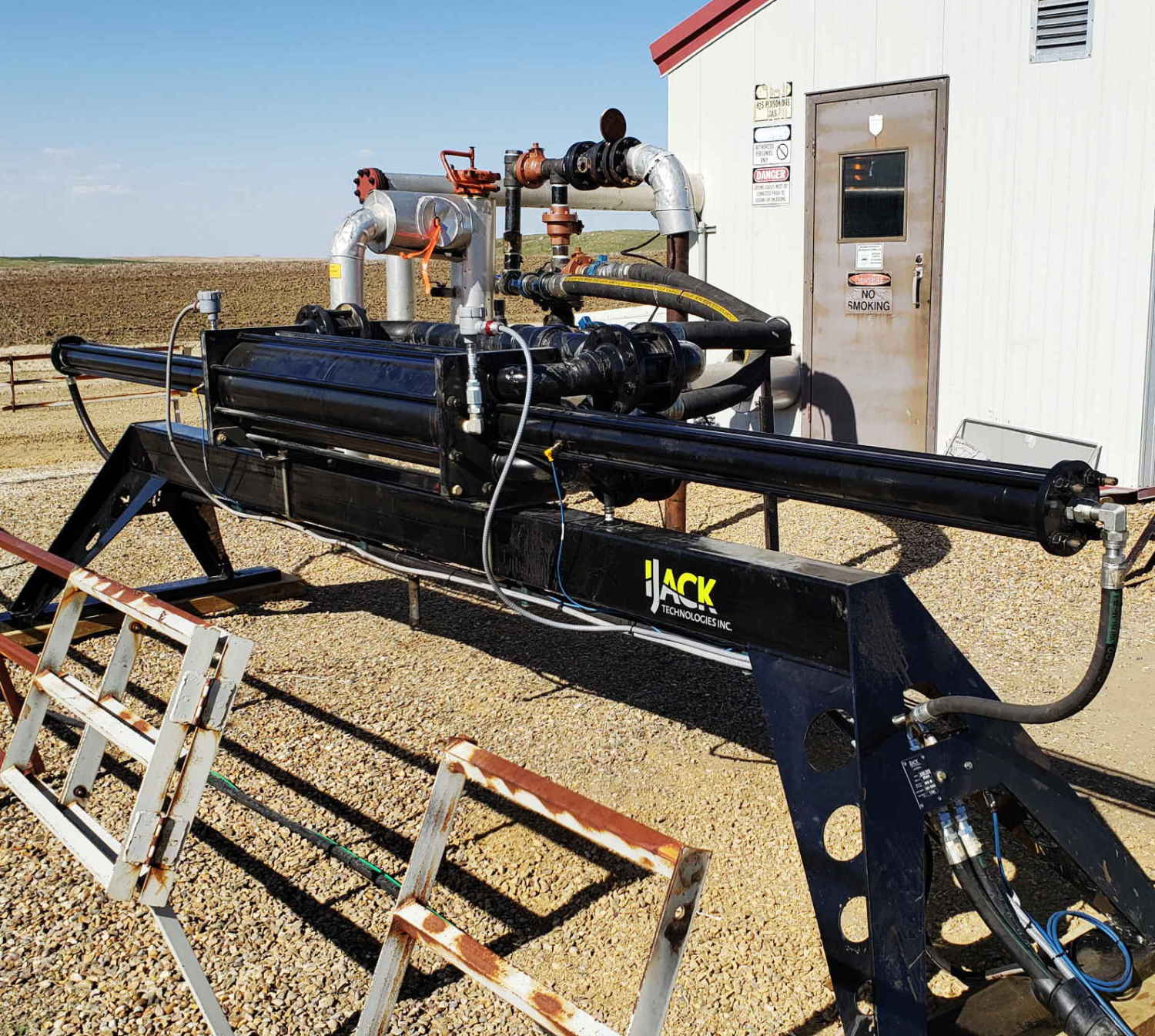 ---